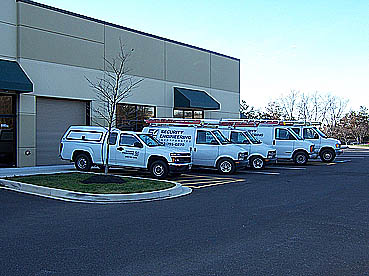 Security Engineering, Inc was formed in 1986 by Joe Pellak, a security professional with over 40 years technical experience in IDS, CCTV, and card access systems. Security Engineering, Inc is a licensed, woman-owned construction contractor in Maryland as well as a licensed security contractor with the Virginia Department of Criminal Justice Services. The company also maintains a Maryland State Police Security License, as well as a Master's Limited Electrical License in Anne Arundel, Prince George's, Howard, Baltimore County, and Baltimore City.
(top)
---
Joe Pellak began his career in 1966 as an alarm apprentice with Alarm Systems Inc. in Rockville, Maryland. In 1976 he joined Wells Fargo Alarm Services in Washington, DC. as a security installer. During his ten-year career with Wells Fargo, Mr. Pellak was promoted to area foreman, then to operations manager, where he was responsible for the day-to-day operation of the central station, service and installation department for Washington's second largest alarm company. In 1986, Mr. Pellak left Wells Fargo and formed Security Engineering. During the early years, Security Engineering provided their services as contractors to install and service IDS systems for government agencies, government contractors, and other high-tech industries. Today, our services also include the installation and service of CCTV and access control systems.
Our business philosophy is simple: We only serve a limited number of large customers so we can provide the greatest quality of service. When you contact or call our office, you will speak to a familiar voice that remembers you and cares about your needs.
(top)
---
Since our inception, Security Engineering, Inc has been responsible for the installation, service, and maintenance of many high-tech security alarm, CCTV, and access control systems. Due to the high-tech nature of our business, we have provided our services to Federal and other agencies throughout the United States, Canada, Europe, and Asia. Our projects range in size from small SCIFs to those lasting 18-24 months.
IDS equipment includes all Wells Fargo equipment (the CU series, SMT-4 and the EP-120), DMP XR200 and XR500 panels.

CCTV equipment includes fixed interior/exterior cameras, PTZ cameras, dome cameras, thermal imaging cameras, matrix switchers, multiplexers, monitors, IR illuminators and digital video recorders. The manufacturers of this equipment vary but we deal primarily with Pelco, Bosch, Panasonic and Hurley. We also provide fiber optic services for transmission of the signal between the head-end equipment and cameras.

Access control includes Hirsch, DMP, Card Key, Logiplex, Casi-Rusco and Northern.
(top)

---
State of Maryland Construction Contractor

Virginia Department of Criminal Justice Security Contractor

Master Limited Electrical License in the following areas: Anne Arundel county, Prince George's county, Howard county, Baltimore county, Baltimore City.

Maryland State Police Security License

Underwriter Laboratories (UL) CRZH certified

Security Clearances as required
(top)

---
Some organizations who have used our services include:
The United States Army, Navy, Air Force, and Marines

New York Drug Enforcement Agency

ATF, DIA, FBI, CIA, ITC, NELO, NGIC, CIO, NDIC

Science Applications, Orbital Sciences

Scitor, Boeing, Northrop Grumman, Lockheed Martin

TASC, NEC, IBM, TRW

Truman, Kennedy, Johnson, and Bush Presidential Libraries.

Wright-Patterson Air Force Base in Dayton, Ohio (basewide upgrade and conversion of over 400 IDS systems)
(top)

---
Each employee must pass the Maryland State Police background investigation

Senior technical staff with over 150 years of combined service within our industry

Technicians with the required security clearances to work on any project

All technicians registered with the Maryland State Police and/or the Virginia Department of Criminal Justice
(top)